Product Description
ITEM # 

SH6-295

ID

Carcharocles megalodon

FOUND

Beaufort, South Carolina, U.S.A.

AGE

MIOCENE to PLIOCENE:  23.3 - 1.81 million years ago

SIZE

4.95" in length on the diagonal edge

CONDITION

NO REPAIR OR RESTORATION

NOTE

LARGE BEAUTY WITH UNIQUE LIGHT COLOR AND
CONTRASTING BLACK ROOT AND BOURLETTE.
SHARP TIP AND SERRATIONS WITH NO TYPICAL
BLADE DAMAGE OFTEN SEEN IN 5 INCH TEETH.


INCLUDES DIPLAY BOX -

 Actual Item - One Only

Comes with a certificate of authenticity / information sheet
CLICK HERE TO LEARN MORE ABOUT MEGALODON
This is a beautiful fine grade Megalodon tooth with beautiful and unusually light-colored enamel displaying a natural high luster. Serrations and tip are well preserved and sharp as shown above. Jet black bourlette and root are the finishing touches to a beautiful combination of colors. For nearly a 5 inch tooth, this example does not have the typical blade damage and nicks often seen in teeth this size. Small patch of enamel missing on both sides but overall, a fantastic quality tooth that is LARGE and from the front of the lower jaw. Teeth that measure 5 inches in length jump dramatically in price as this size class is MUCH MORE RARE to find compared to teeth in the 3 and 4 inch range. This specimen has absolutely NO REPAIR AND NO RESTORATION. At Paleo Direct, every Megalodon tooth we offer (even if from an old collection) is run through our on-premises lab facility for scrutiny. It is then microblasted to clean it and inspected for any defects.
Divers will tell you that megalodon teeth like this are extremely difficult to find in today's waters. This spectacular specimen is loaded with so many features desired by advanced Megalodon tooth collectors. Current and increasing future demand will never be satisfied by the dwindling numbers of the truly top grade specimens such as this beauty, hence their constantly increasing prices each year.
Megalodon teeth found in rivers are almost always heavily eroded and worn from the high energy environment in which they were subjected to. They usually have dull, sand-blasted enamel, peeling back from the core. The roots are often damaged. While we strictly avoid Megalodon teeth with restoration or repair, Caveat emptor as some Megalodon teeth in dealers' inventories in the larger sizes and "seemingly" fine qualities, have repair or restoration and this is not often disclosed to the buyer accurately either because of ignorance or dishonesty.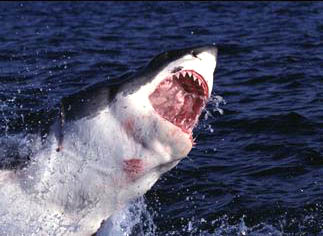 IMAGE COPYRIGHT CHRIS FALLOWS - USED WITH PERMISSION
Product Videos
Custom Field
Comes with a Certificate of Authenticity & Condition / Information Sheet
Product Reviews