Product Description
CLICK HERE TO LEARN MORE ABOUT WOOLLY MAMMOTH
This rare fossil is from Europe, was legally exported from Europe and can be legally shipped to any country. It was not illegally exported out of Russian (Siberia) as ALL Russian / Siberian Ice Age fossils are. Shipping Siberian fossils across country borders risks seizure of the shipment without reimbursement. http://www.dailymail.co.uk/news/article-3757538/Photographs-reveal-illegal-mining-selling-woolly-mammoth-tusks-Russia.html
In all our years of work in paleontology and having handled thousands upon thousands of exceptional Ice Age fossils, we have only seen baby Woolly Mammoth tusks of this size, in less than a handful of times. We acquired this specimen from a MASSIVE, multi-generation Dutch private collection of which, this was one of the smallest baby tusks they ever had, as well! This tusk is more rare than a massive tusk. Baby Woolly Mammoth tusks this size, are RARELY found due to their fragile nature not being able to survive the elements of time. This one of the smallest specimen we have ever seen, from a Woolly Mammoth baby whose skull would not have been any larger than a watermelon. The photo below is of a skull that is that size and you can see the tusks are even larger than this tusk! Finding medium size tusks from adults in European deposits are one thing but to locate a tusk from such a small baby mammoth like this happens only once in a lifetime of collecting - ESPECIALLY COMING FROM EUROPEAN DEPOSITS. Today, Woolly Mammoth fossil tusks you see for sale, come from Siberia (illegal), Alaska and Europe with Europe being the rarest source today.

NOTE: THIS IS THE SMALLEST AND LAST OF THE BABY WOOLLY MAMMOTH TUSKS WE HAVE FOR SALE.

WOOLLY MAMMOTH TUSKS are one of the most popular large display fossils of any collection. Even the casual observer recognizes this type of fossil and the value and appreciation of a COMPLETE fossil ivory tusk from the great Woolly Mammoth has garnered international appeal and awe. The famous Wooly mammoth can be considered the mascot animal of the Earth's final Ice Age and this massive beast most certainly gained respect to all that got in its way including both Neanderthals and modern humans. The lore of Cave Paintings and Neanderthal hunting parties are embodied in the magnificence and power of a genuine fossil mammoth tusk of Europe's final Ice Age where the Woolly Mammoth ruled the frozen tundra.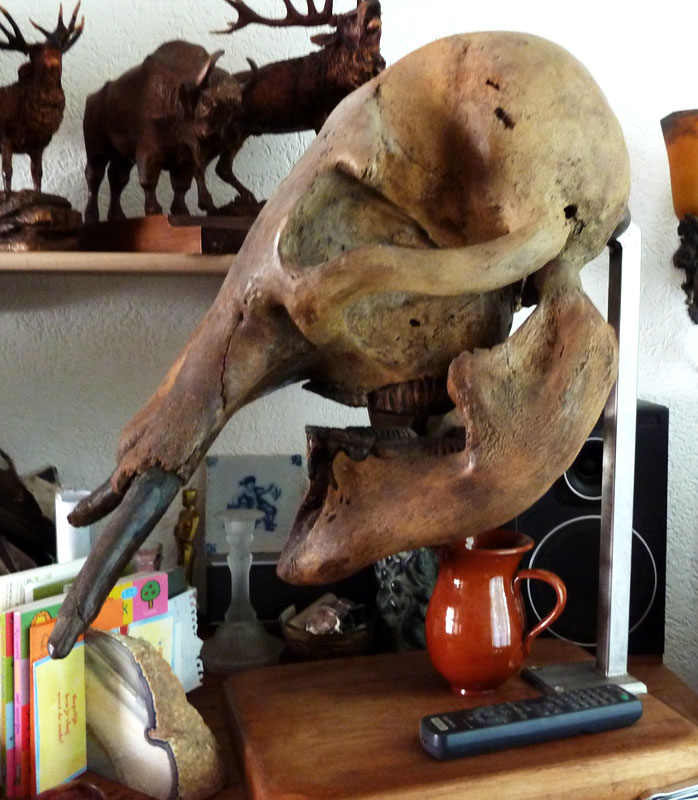 THE ABOVE SKULL IS OF A VERY YOUNG BABY WOOLLY MAMMOTH CALF AND THE TUSK WE OFFER HERE WOULD HAVE COME FROM A MAMMOTH EVEN SMALLER THAN THIS!
Product Videos
Custom Field
FOUND
NORTH SEA FLOOR DEPOSITS - HOLLAND
AGE
PLEISTOCENE: 150,000 - 20,000 years ago
SIZE
4.75" long on the curve, 4.5" circumference
CONDITION
NO REPAIR BUT 10% RESTORATION TO TIP AND CRACKS IN BODY. NATURAL FLAT DIGGING WEAR ON BOTTOM OF TUSK FROM WHEN THE MAMMOTH WAS ALIVE AND FORAGING FOR FOOD.
NOTE
EXTREMELY RARE! ONLY ON A HANDFUL OF OCCASIONS HAVE WE SEEN WOOLLY MAMMOTH TUSKS THIS SMALL. THIS MAMMOTH WOULD HAVE BEEN THE SIZE OF A SMALL PONY.
::
Includes a LIFETIME Certificate of Authenticity & Condition / History Sheet
Product Reviews