Product Description
Dating to the Late Triassic Period, these are three large fossil vertebrae of different spinal positions, from a giant apex predator amphibian, Metoposaurus. Metoposaurus was a huge amphibian that lived during the end of the Triassic. An image below shows how large they grew in comparison to a human. Each of these vertebrae centrums are whole as originally collected, and have been cleaned in our lab. Fossil bones of this amphibian are very scarce and this offer presents an excellent opportunity to add a unique apex predator fossil from this era in time. All vertebrae are INTACT WITH NO REPAIR OR RESTORATION.
Metoposaurus meaning "front lizard" is an extinct genus of Stereospondyli temnospondyl amphibian, known from the Late Triassic of Germany, Italy, Poland, and Portugal. This mostly aquatic animal possessed small, weak limbs, sharp teeth, and a large, flat head. This highly flattened creature mainly fed on fish, which it captured with its wide jaws lined with needle-like teeth. Metoposaurus was up to 3 m (10 feet) long and weighed 454 kg (1,000 pounds). Many Metoposaurus mass graves have been found, probably from creatures that grouped together in drying pools during drought.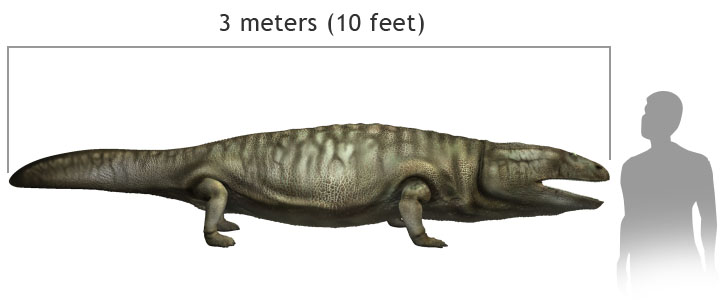 Product Videos
Custom Field
FOUND
Drawno Beds Formation - Krasiejów, SW Poland
AGE
LATE TRIASSIC: 227 - 201 million years ago
CONDITION
INTACT AND COMPLETE. NO REPAIR OR RESTORATION.
NOTE
A RARE SET OF 3 COMPLETE VERTEBRAE FROM THIS ENORMOUS APEX PREDATOR TRIASSIC AMPHIBIAN
::
Includes a LIFETIME GUARANTEE Certificate of Authenticity & Condition / History Sheet.
Product Reviews