Product Description
This is one of the rarer fossil skulls of the megafauna of Ice Age Europe. It is a complete skull with partial antler of the extinct Giant Deer or Giant Irish Elk (Megaloceros giganteus). Even partial skulls are very rare in fossil deposits and few ever come up for sale. This one stands out from others in that it is 100% ORIGINAL WITH NO REPAIR OR RESTORATION. Furthermore, it shows the VERY RARE presence of COMPLETE, ORIGINAL DENTITION WITH ALL TEETH IN STUNNING PRESERVATION.
Very, very rarely are these skulls found in this manner of completeness. The limited number of Megaloceros skulls discovered in deposits are most often severely damaged and usually missing most of the skull with only the back portion present where the antlers were attached. Most skulls are missing all or the majority of their teeth. Antler racks are more common since they are stronger than a skull and as such, have withstood the ravages of time better than a skull could. Past sales of antler racks have realized prices well into the 5 digit sums with many of those racks being restored and/or composites of pieces from multiple animals. Past London and Irish auctions of these fossils, dating to 2001 through 2012 have realized prices from $40,000 to nearly $80,000. A skull of this level is more rare than part of a skull with an antler rack, especially one that is restored.
The bone on this particular specimen is very dense and well-preserved, lacking erosion or poor mineralization. The bases of both antlers are present with one side having a portion of the trunk of original antler. The teeth are in stunning condition - THIS IS THE BEST SKULL WE HAVE EVER SEEN FOR THE QUALITY AND COMPLETENESS OF THE TEETH. Truly a museum-class example, this top quality specimen will not disappoint the most discriminating collector or exhibit collection. Finding a Megaloceros skull in this condition that has not been altered, is rare!
For an advanced collection, this would be an especially scarce and cherished addition. European dredging equipment has permanently changed for the worse when it comes to fossil discovery. For the past decades, all the machinery now used in the central and western European countries, where most of the fossils were found, now grind up and destroy all the fossils as the gravel is being quarried and collected. This technological change has forever made fossil skulls like this, as extinct as the beasts themselves!
CLICK HERE TO LEARN MORE ABOUT MEGALOCEROS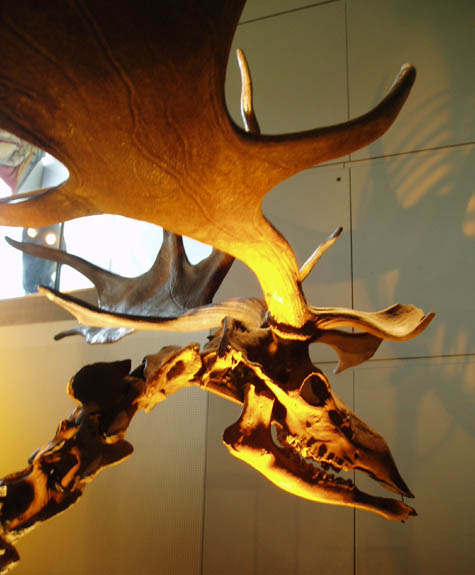 IMAGES COPYRIGHT PROTECTED - TIME VAULT GALLERY, LLC

Product Videos
Custom Field
AGE
PLEISTOCENE: 1.5 million - 15,000 years ago
SIZE
19.25" long skull without antlers
CONDITION
NO REPAIR OR RESTORATION - BONE STABILIZED ONLY. INTACT AND 100% ORIGINAL AS FOUND
NOTE
EXCEEDINGLY RARE! INTACT AND COMPLETE WITH ALL ORIGINAL TEETH IN SPECTACULAR PRESERVATION!
::
Includes a LIFETIME GUARANTEE Certificate of Authenticity & Condition / History Sheet
Product Reviews