Product Description
ID

Dromaeosaurus sp.

FOUND

Two Medicine Formation - Montana, USA

AGE

LATE CRETACEOUS PERIOD:  83 - 70 million years

SIZE

.65" long

CONDITION

INTACT WITH NO REPAIR OR RESTORATION.
PERFECT PRESERVATION!


NOTE

FANTASTIC TOOTH IN EVERY WAY!!!

INCLUDES DISPLAY BOX

   Actual Item - One Only


Comes with a certificate of 
authenticity / information sheet
CLICK HERE TO LEARN MORE ABOUT DROMAEOSAURS
From the Two Medicine Formation of Montana, U.S.A., this is a SUPERB fossil dinosaur tooth from a dromaeosaur dinosaur called Dromaeosaurus sp.. This tooth possesses CHOICE preservation with stunning color and a natural luster. It is complete with beautiful and well-preserved enamel. The tip is undamaged, flanked by crisp serrations running down both edges. It is UNBROKEN with NO REPAIR AND NO RESTORATION.
Dromaeosaurus was a small carnivore, about 2 m (6.6 ft) in length and 15 kg (33 lb) in weight. Its mouth was full of sharp teeth, and it had a sharply curved "sickle claw" on each foot. It lived during the Campanian stage of the Late Cretaceous, however, some fragmentary remains such as teeth which may belong to this genus have been found from the late Maastrichtian age Lance and Hell Creek Formations, dating to 66 million years ago.

Dromaeosaurus had a relatively robust skull with a deep snout. Its teeth were rather large and it had only nine of them in each maxilla. Dromaeosaurus differs from most of its relatives in having a short, massive skull, a deep mandible, and robust teeth. The teeth tend to be more heavily worn than those of its relative Saurornitholestes, suggesting that its jaws were used for crushing and tearing rather than simply slicing through flesh. It is estimated that Dromaeosaurus had a bite nearly three times as powerful as that of Velociraptor and suggested it relied more on its jaws than on the sickle claw to kill its prey.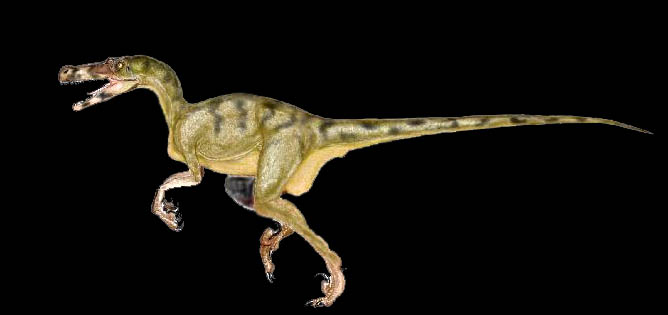 Product Videos
Custom Field
Comes with a Certificate of Authenticity & Condition / Information Sheet
Product Reviews