Product Description
This is a complete and intact dinosaur tooth of the armored ankylosaurid dinosaur Euoplocephalus found in the Judith River Formation, Montana, U.S.A.. It is a RARE tooth in SUPERB, original condition as found. An important specimen if collecting the lineage of armored dinosaurs as Euoplocephalus was one of the largest of the ANKYLOSAURIDS. A type of armored dinosaur tooth RARELY offered for sale.
SEE MORE AND LEARN ABOUT ANKYLOSAUR DINOSAUR FOSSILS
HISTORY
Euoplocephalus was about 20 feet in length and weighed as much as 2 tons. Euoplocephalus was an ankylosaurid and had the classic tail club that this genera of dinosaurs is so popularly known for. This armored dinosaur was low and robust in build with a flat, thick triangular skull with large horns projecting out to the rear. Its body was covered in flexible bands of armor with even its eyelids armored in this manner! It body also featured short spiked dermal scutes and an array of spines down its back. The tail was large and muscular, strengthened with heavy tendons and terminating to a large bony club that could have been swung for defense against predators. The small teeth indicate it fed on fleshy, soft vegetation.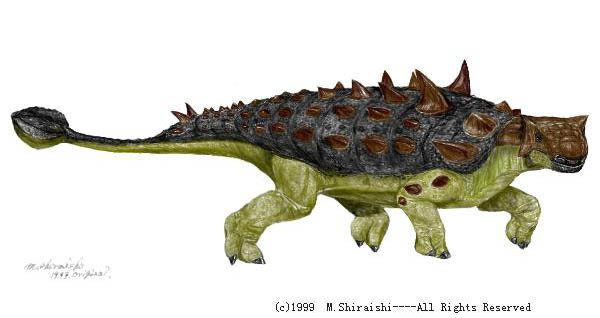 Product Videos
Custom Field
FOUND
Judith River Formation - Montana, USA
AGE
LATE CRETACEOUS: 83.6 - 66 million years ago
CONDITION
COMPLETE. NO REPAIR OR RESTORATION.
NOTE
FINEST QUALITY RARE ARMORED U.S. ANKYLOSAUR DINOSAUR TOOTH!
::
Includes a LIFETIME Certificate of Authenticity & Condition / History Sheet
Product Reviews