Product Description
This rare UNBROKEN fossil dinosaur tooth is an exceptional specimen from the front of the jaw of a Deltadromeus agilis. The rounded cross-sectional profile and shape are indicative of teeth found in the front of the jaw where they needed to be stronger than lateral teeth, to sustain the impact of striking and snatching struggling prey. The fine serrations are intact and the tip is sharp and unbroken. The enamel shows a dark wine red hue with natural luster, not from being dipped in a clear sealer or coated with anything to artificially make it glossy. A tooth like this represents one of the highest possible qualities one can hope to find in these SCARCE dinosaur teeth.
While to date, a skull has not been found of this dinosaur, the recent scientific relation of the species to Ceratosaurs, has been in line what we have been saying for years in our attributing teeth we sell, to this species. The teeth of this Deltadromeus are notably different from Carcharodontosaurus, despite a resemblance in a cursory look. The teeth from Deltadromeus very much resemble a massive dromaeosaur. They are much more laterally compressed than Carcharodontosaurus, and have finer denticles. The side profile of the lateral and anterior teeth are notably taller, with less of a backward dagger-like curvature, than Carcharodontosaurus teeth where the cross-section is more robust with a greater hook to the dagger-shape of the crown. Comparison of teeth that we attribute to Deltadromeus, compare very closely to Ceratosaurus sp..

CLICK HERE TO LEARN MORE ABOUT DELTADROMEUS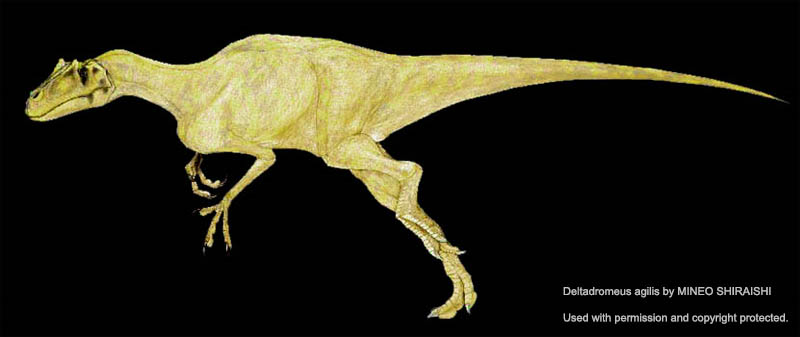 Product Videos
Custom Field
FOUND
Kem Kem Beds - NW Sahara Desert, Morocco
AGE
LATE CRETACEOUS: 100 - 66 million years ago
SIZE
1.5" long on the curve
CONDITION
COMPLETE. NO REPAIR OR RESTORATION.
NOTES
SUPERB SPECIMEN FROM THE FRONT OF THE JAW.
::
Includes Lifetime Certificate of Authenticity & Condition / History Sheet
Product Reviews