Product Description
ITEM # 

CROC027

ID

Sarcosuchus imperator

FOUND

Elrhaz Formation

Tenere Desert - South Central Sahara Desert, Niger

AGE

LATE CRETACEOUS (APTIAN):  112 million years ago

SIZE

3" long x 2.75" wide x .5" thick

CONDITION

UNBROKEN WITH NO REPAIR OR RESTORATION

INCLUDES DISPLAY BOX

   Actual Item - One Only

Comes with a certificate of authenticity / information sheet
CLICK HERE TO LEARN MORE ABOUT CROCODILES
We have been extremely fortunate to secure a small collection of fossils formerly in the estate of a retired European expedition guide who had traveled to the South Central Sahara many decades ago. In this collection were a variety of exceptionally rare fossil dinosaur and other reptile teeth including a few massive dermal armor scutes of Sarcosuchus imperator! This superb specimen is from that collection and it is most certain we will never see such an opportunity again. We fully cleaned all the vesicles in our lab to remove the silicified sand. This is one of two of the largest and best armor plates of this small collection we acquired. It would have come from an ENORMOUS full-grown Supercroc. What is impressive is the sheer thickness of this specimen as well as the size of the vesicles compared to a normal size alligator or crocodile dermal armor scute. Never again will we have a chance to offer such a rare and supreme example as this. INTACT WITH NO REPAIR AND NO RESTORATION. WITH OUR HIGHEST RECOMMENDATION!
FROM OLD EUROPEAN ESTATE OF RETIRED EXPEDITION GUIDE - INTACT, MASSIVE AND THICK!!! INCREDIBLY RARE
FULLY CLEANED IN OUR LAB - FROM A MASSIVE DINOSAUR-EATING BEAST! CHOICE PRESERVATION AND COMPLETENESS!!!
An American team of paleontologists on an expedition in Niger in the year 1997 and later, in a return expedition in 2000, unearthed remains of a huge crocodile that had first been discovered in the 1940's by French paleontologists. Scattered remains and large teeth have been discovered in various prehistoric marine environments of North Africa for many decades but this is the first time a full-fledged excavation and study had been done on the beast. The result - the discovery of Sarcosuchus imperator or "SUPER CROC" as it has become notoriously known as.
The scientific name means 'flesh crocodile emperor'. This monster crocodile from the days of the dinosaurs is estimated to have weighed 10 tons and attained a length of nearly 40 feet with a skull exceeding 5 feet in length! Large vertebrates including dinosaurs, are believed to have been its unfortunate victims.

Current regulations and civil war in the Tenere Desert have made even current collecting illegal and life-threatening! This scientific discovery of this massive killer Cretaceous crocodile was revived by the recent National Geographic-funded expedition that led to its recent promotion, but there never has and never will be any commercially available fossils of this monster. This is a once-in-a-lifetime chance to acquire such a rare fossil tooth from such an infamous killer of prehistory.
SPECIAL NOTE: There are many different species and sizes of fossil crocodiles in Africa. In an effort to make ordinary prehistoric crocodile fossils more saleable, many dealers simply call ALL of their Moroccan fossil crocodile fossils as coming from Super Croc which is not true. Genuine Supercroc fossils are only known from regions in Niger and Libya.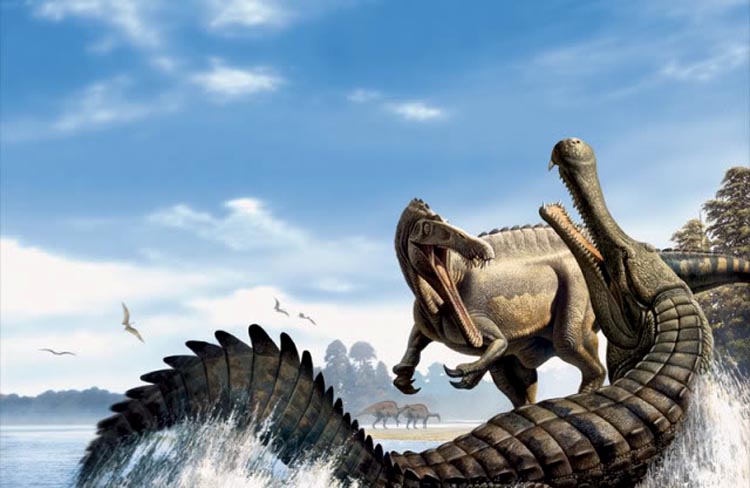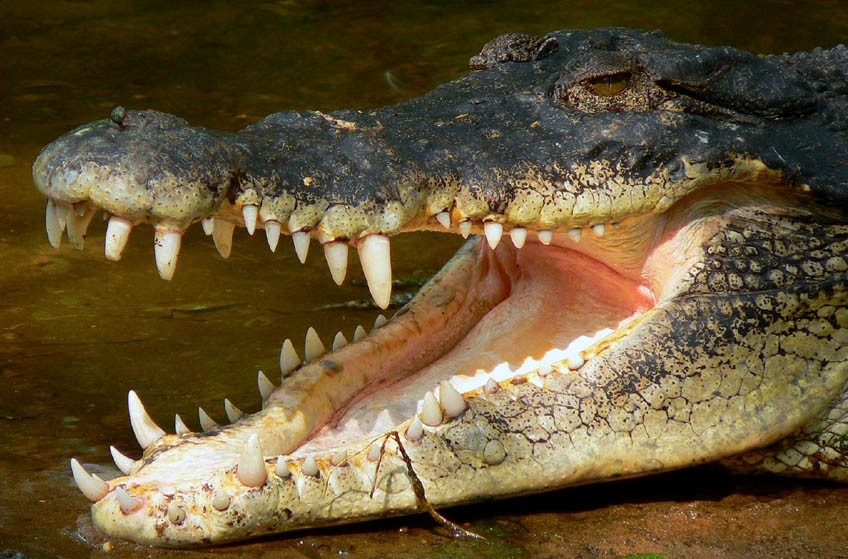 copyright paintings above by Todd Marshall, image by PaleoDirect.com, used with permission
Product Videos
Custom Field
Comes with a Certificate of Authenticity & Condition / Information Sheet
Product Reviews