Product Description
SEE MORE ICE AGE AUROCHS FOSSILS
This is an extremely rare and highly uncommon fossil partial skull and horns of an extinct Aurochs (Bos primigenius / taurus). It is so impressive that it was featured in the book "The Aurochs, Born to be Wild" by Wouter Helmer, Henri Kerkdijk-Otten, Staffan Widstrand Ronald Goderie. It was chosen as an exceptional fossil that displays all the magnificent qualities of this magnificent Ice Age beast. The Aurochs possessed an enormous forward curving horn set, much broader and of larger proportions than wisent (bison) of the same period. The sheer scarcity of fossil Aurochs skulls and complete horn like this are a mystery. They have been found in much, much lesser numbers than fossil Wisent have. In all our travels in Europe and visits to private collections and all the major Ice Age museums there, you could count on one hand the number of well-preserved and complete fossil Aurochs skulls and horns compared to the much more prevalent Wisent specimens. At this size of the specimen offered here, this is pretty much the maximum proportions, exceeding a meter across in a straight line measurement!
Fossils like this are a thing of the past. Today, the dredges operate completely differently than in earlier times when this skull was found. Today's modern dredges pulverize the gravel, subsequently destroying the fossils BEFORE they are brought up to the surface to be seen! This skull is in remarkable condition considering the remaining fragile anatomy that survived both the last Ice Age and the river dredge that retrieved it. All bone surfaces are impeccable and both horn cores are present. The interior of the cranium with its honeycomb structures resemble that of the mammoth. This type of anatomy inside the skull is a result of how the skull was able to be carried by the animal with its enormous horns and remain of manageable weight despite its enormous size.

It is no wonder this beast was featured on innumerable prehistoric cave paintings found in Europe. Neanderthals and Cro-Magnons alike, must have worshipped and revered this animal, as much as they respected the danger it represented in a challenging hunt.
This trophy fossil of an Ice Age icon is rare beyond words and it is one of the finest set of maximum size horns and skull cap we have ever seen. From a 40 year Dutch private collection, once it is sold, we will never have another to replace it with. Whether serving as the ultimate interior design centerpiece or unforgettable museum display, the impressive visual nature of this authentic specimen is hard to beat. This would make a phenomenal display piece laying alongside primitive hunting weapons of prehistoric man as these animals lived alongside humans, played a vital role for resources in human survival during the last Ice Age and were hunted / revered by both Neanderthal man and Cro-Magnon man! This is THE ultimate Aurochs fossil and probably one of the MOST IMPRESSIVE Ice Age fossils from Europe! A rare fossil from a beast that is seldom found in Late Pleistocene fossil collections.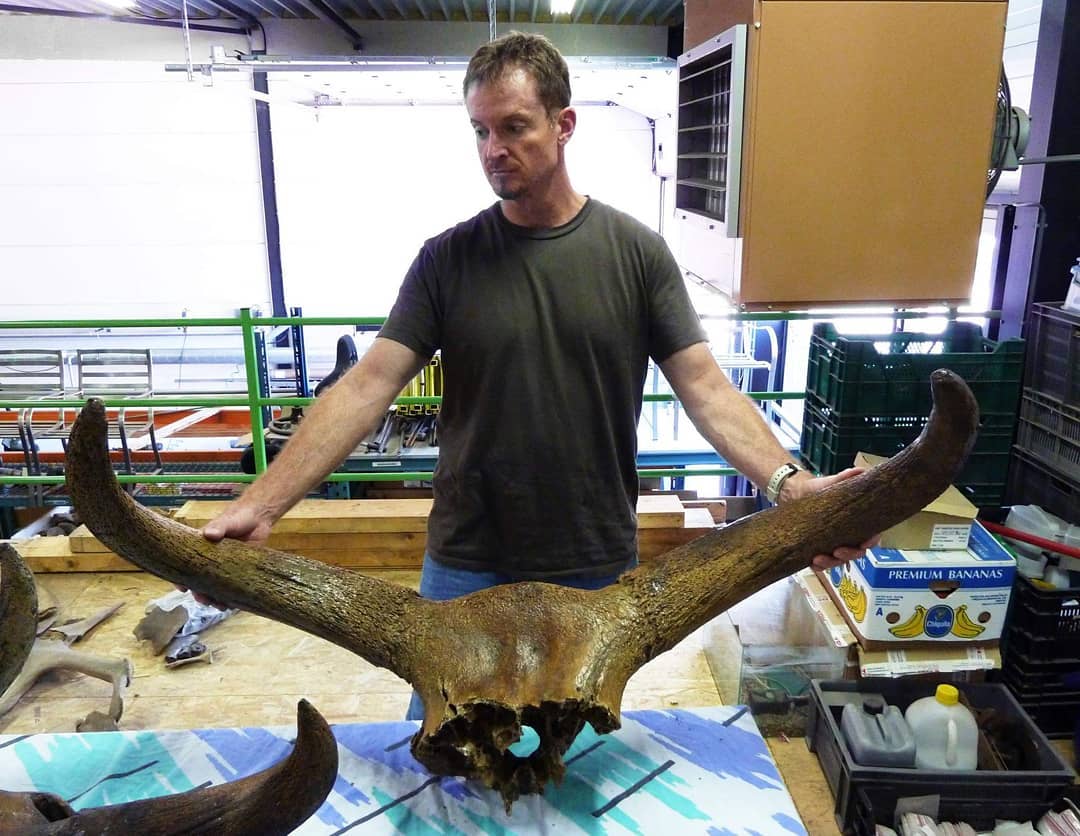 A photo of this specimen featured in the book "The Aurochs, Born to be Wild" by Wouter Helmer, Henri Kerkdijk-Otten, Staffan Widstrand Ronald Goderie.
Product Videos
Custom Field
ID
Bos primigenius / taurus
FOUND
River Gravel Deposit - Rhine River, Germany
AGE
LATE PLEISTOCENE: 250,000 - 10,000 years
SIZE
42" across straight-line, 74" spread on curve. 24" high on stand.
CONDITION
MINOR REPAIR ONLY TO CLEAN BREAKS SUSTAINED FROM THE DREDGE.
NOTE
MASSIVE, MAXIMUM SIZE HORN SPREAD! INCREDIBLY IMPRESSIVE IN PERSON! CHOICE PRESERVATION - RARE THIS COMPLETE!
::
Includes Custom Stainless and Wood Stand
::
Includes a LIFETIME Certificate of Authenticity & Condition / History Sheet
Product Reviews