Product Description
SEE MORE SPINOSAURUS DINOSAUR FOSSILS
This is a GENUINE fossil Spinosaurus dinosaur tooth. This tooth is complete and from a full-grown, adult Spinosaurus dinosaur.
Spinosaurus is estimated to have been THE LARGEST of all meat-eating dinosaurs that ever lived. With a length of 41 to 59 feet long, 20 feet high and weight estimates from 4 to 20+ tons, it was truly a behemoth! Spinosaurus was considered a bipedal dinosaur that is, one that walked on two feet although, its robust arms could have been used to allow the animal to walk on all fours at times. An extremely long snout was lined with an array of straight, conical teeth.
WARNING: A common trick to fake large dinosaur teeth in the market is to attach either a bunch of sand mixed with glue on the end of the tooth's root to exaggerate the length or even worse, fabricate a giant impressive tooth by combining and blending multiple teeth sections together to appear as one massive tooth or to fabricate the bottom portion of the tooth and extend, by a much as DOUBLE OR MORE, the original length of the tooth before work started. Don't be fooled when you are shopping for large dinosaur teeth of ANY SPECIES, not just Spinosaurus. We see these altered fake large dinosaur teeth everywhere for sale. Ebay is especially one of the worst places for this where fraud runs rampant and unchecked in the entire rare collectibles field!
HISTORY
The remains of Spinosaurus aegyptiacus were first described by a German paleontologist in 1912 in central Egypt. A variety of pieces were recovered including a skull and teeth. On the evening of April 24, 1944, a British bombing run on Munich destroyed these and many other rare fossil specimens.
Its most unusual feature was a row of broad club-shaped spines 6 feet tall, projecting upward from the backbone. It's believed that these spines were covered with a sail of skin which could be raised by the creature as a social display or as a way to regulate body temperature. Other theories suggest the back sported not a tall sail but a large hump, based on the robustness of the spiny dorsal processes of the vertebrae. Theories also counter the notion that the sail was used to absorb heat and instead, was used to allow the body to cool more rapidly or even reflect heat from the hot, midday sun.
To this day, no other dinosaur has been found with such tall and broad-shaped neural spines. Fossil remains of Spinosaurus aegyptiacus are only found in the North African Sahara Desert. Contrary to the inhospitable desert environment where Spinosaurus fossils are found today, this region was a vast swampy tropical paradise abundant with life during the Cretaceous Period when Spinosaurus was alive and inhabiting its muddy river shores and bogs. Paleoecology studies of the area where Spinosaurus fossils are found indicates the environment was once a large tidal flood plain with scattered channels and mangrove forests. This would have made Spinosaurus a creature like a modern crocodile where it spent part of its life in water and part on land. The conical teeth and elongated snout of Spinosaurus indicate that, given the environment it lived in, most likely had a varied diet of not only terrestrial creatures but fish and other aquatic life, as well.
- copyright Time Vault Gallery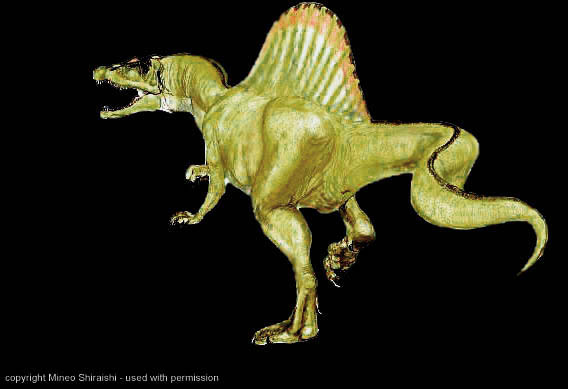 Product Videos
Custom Field
ID
Spinosaurus aegyptiacus
FOUND
Kem Kem Beds (NW Sahara Desert), Morocco
AGE
CRETACEOUS: 112 - 97 million years
CONDITION
COMPLETE. NO REPAIR OR RESTORATION. SOME ENAMEL LOSS AND NATURAL FEEDING DAMAGE ON SHARP TIP.
NOTE
GENUINE FOSSIL TOOTH FROM A LARGE MEAT-EATING DINOSAUR
::
Includes a LIFETIME GUARANTEE Certificate of Authenticity & Condition / History Sheet
Product Reviews