Product Description
ID

Bos primigenius / taurus

FOUND

River Gravel Deposit - Maas River,
Netherlands

AGE

PLEISTOCENE:  150,000 - 15,000 years

SIZE

7" tall x 6.8" across overall

CONDITION

NO REPAIR OR RESTORATION.
SEALED AND STABILIZED

NOTE

CHOICE PRESERVATION WITH
DENSE MINERALIZATION

Actual Item - One Only

Comes with a certificate of 
authenticity / information sheet
CLICK HERE TO LEARN MORE ABOUT AUROCHS
Dredged years ago from the Maas River during the construction of a major park, this is a well-preserved fossil cervical (neck) vertebra of an extinct Ice Age Aurochs. It was found amongst a number of related megafauna Ice Age fossils of Woolly Rhinoceros, Mammoth, Aurochs, Megaloceros and Wisent. A number of Acheulian Period prehistoric human stone tools were also found in the gravel that was dredged.
The color is a beautiful brown with original gravel bed fossil sediments still in the crevices. Virtually complete with spines and intact neural canal. NO REPAIR and NO RESTORATION.
This fossil would make a phenomenal display piece laying alongside European primitive hunting weapons of prehistoric humans! Neanderthals and Cro-Magnon humans lived alongside the Aurochs which played a vital role for resources in human survival during the last Ice Age. In Europe, the Aurochs were hunted and revered by prehistoric humans. Many prehistoric cave art sites in Europe feature spectacular pictures of these magnificent beasts.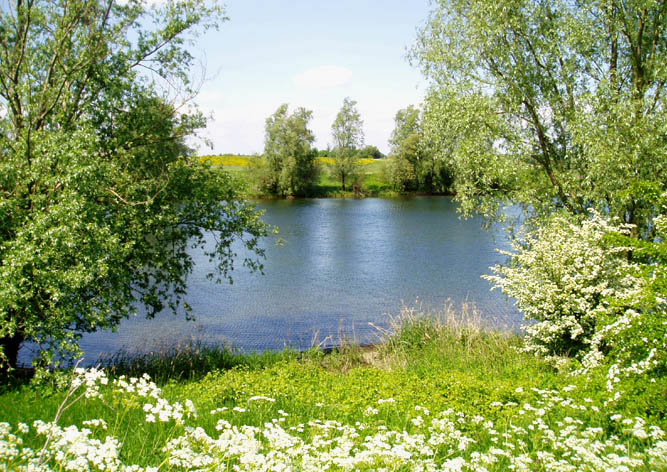 Maas River site in Holland where this fossil was dredged and collected - copyright Paleo Direct, Inc.
Product Videos
Custom Field
Comes with a Certificate of Authenticity & Condition / Information Sheet
Product Reviews