Product Description
ID

Dakotaraptor sp.

FOUND

Hell Creek Formation - South Dakota, USA

AGE

LATE CRETACEOUS PERIOD:  70 - 65 million years

SIZE

1" long on the curve

CONDITION

INTACT WITH NO REPAIR OR RESTORATION.
FANTASTIC EXAMPLE WITH SUPREME
PRESERVATION AND COLOR!


NOTE

SUPER RARE AND LARGE TOOTH OF A NEWLY
DISCOVERED, MASSIVE DROMAEOSAUR.
FIRST TIME WE OFFERED A TOOTH FROM
THIS MONSTER "RAPTOR".


INCLUDES DISPLAY BOX

   Actual Item - One Only


Comes with a certificate of 
authenticity / information sheet
CLICK HERE TO LEARN MORE ABOUT DROMAEOSAURS
This is a SUPER RARE AND SUPREME QUALITY genuine fossil tooth that would have come from a large Dakotaraptor "raptor" dromaeosaur dinosaur from the famous Hell Creek deposits in the United States. Like the dinosaur itself, this tooth looks exactly like its smaller relative dromaeosaur teeth, but on steroids! This is the first time we have had a tooth from this massive killer, to offer for sale and in retrospect, we have seen very little dromaeosaur teeth of this size over the years of collecting in the formation. Regardless of its rarity, you could not ask for a nicer specimen! This is truly a gem tooth!!! It is intact with crisp serrations and a sharp, undamaged tip. The enamel is a beautiful medium brown hue with supreme preservation. Tooth has NO REPAIR AND NO RESTORATION.
The first fossils of Dakotaraptor were found in South Dakota, United States, in 2005. In 2015, the genus Dakotaraptor received its name, meaning "plunderer of Dakota", when the type species Dakotaraptor steini was described. The fossils contain an incomplete skeleton without a skull and some individual bones. They have been found in the Maastrichtian-age Hell Creek Formation, dated to the very end of the Cretaceous period, making Dakotaraptor one of the last surviving dromaeosaurids.

Dakotaraptor was about 5.5 meters (18 ft) long, which makes it one of the largest dromaeosaurids known. This approaches the size of the largest known dromaeosaurid, Utahraptor. Dakotaraptor however, does not have the proportions and adaptations of Utahraptor, but more closely resembles smaller dromaeosaurids like Deinonychus. It had long arms. One of the lower arm bones shows quill knobs, demonstrating that it was most likely feathered. It also had long rear legs with a very large sickle claw on the second toe; this claw could be used to kill relatively large plant-eating dinosaurs. It lived in the same time and area as Tyrannosaurus.

Dakotaraptor is the first medium-sized predator discovered in the Hell Creek Formation, intermediate in length between gigantic tyrannosaurids like Tyrannosaurus and smaller deinonychosaurians like Acheroraptor. Especially if it was a pack-hunter, cooperating in groups, it could have preyed upon larger herbivores, possibly competing with subadult tyrannosaurids in the 6–9 meters (20–30 ft) length range. As its shinbone was longer than its thighbone, Dakotaraptor would have had a good running capacity, filling the niche of pursuit predator. The keeled claw of the second toe, the "sickle claw", was used to bring down prey and had a more robust flexor tubercle than that of Utahraptor. To the contrary, the third foot claw was relatively smaller in size than with other dromaeosaurids and seems not to have had an important function in attacking prey animals.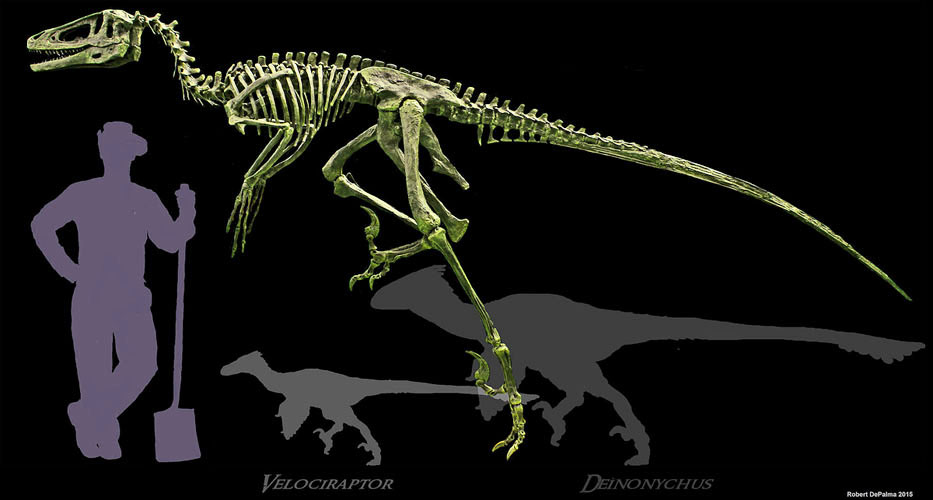 Product Videos
Custom Field
Comes with a Certificate of Authenticity & Condition / Information Sheet
Product Reviews