Product Description
ITEM # 

DT30-005

ID

Suchomimus tenerensis

FOUND

Elrhaz Formation

Tenere Desert - South Central Sahara Desert, Niger

AGE

LATE CRETACEOUS (APTIAN):  121 - 113 million years ago

SIZE

1.5" LONG

CONDITION

UNBROKEN WITH NO REPAIR OR RESTORATION

INCLUDES DISPLAY BOX

   Actual Item - One Only

Comes with a certificate of authenticity / information sheet
This SUPREME GRADE tooth is a remarkable collector specimen that would have come from the long jaws of a full-grown Suchomimus. It shows minor feeding wear and is INTACT WITH NO REPAIR AND NO RESTORATION. True Suchomimus tenerensis teeth are more rare than teeth from T. rex and yet, at a fraction of the cost. WITH OUR HIGHEST RECOMMENDATION!
We have been extremely fortunate to secure a small collection of fossils formerly in the estate of a retired European expedition guide who had traveled to the South Central Sahara many decades ago. In this collection were a variety of exceptionally rare fossil dinosaur and other reptile teeth including those of Suchomimus tenerensis! This superb specimen is from that collection and it is most certain we will never see such an opportunity again. Current regulations and civil war in the Tenere Desert have made even current collecting illegal and life-threatening! This is a once-in-a-lifetime chance to acquire such a rare fossil tooth from a dinosaur that is not known to have any commercially collected or available fossils on the market.
In 1997, and again in 2000, an American team of paleontologists on an expedition in Niger unearthed the remains of a massive meat-eating theropod. It had an elongated head with long, conical teeth and unusually slender jaws. Because it resembled a crocodile that walked on two feet, this newly discovered dinosaur earned the name Suchomimus tenerensis, meaning "crocodile mimic of the Tenere". Suchomimus is a type of Spinosaurid dinosaur with a skull like a crocodile, that stood 12-16 feet high, was 32-38 feet long and would have weighed between 3 to 4 tons. One notable feature is it had claws on its forelimbs nearly 1 foot in length, believed to be used to catch fish. A cousin of Suchomimus, the dinosaur called Baryonyx, lived in what is now England, dating slightly earlier in the Cretaceous Period but with very similar overall features of Suchomimus. Suchomimus was well adapted to catching and eating fish which most likely made up most of its diet, along with small vertebrates and carrion.
INCREDIBLY RARE FROM OLD EUROPEAN ESTATE OF RETIRED EXPEDITION GUIDE - FIRST TIME WE HAVE SEEN SUCH FOSSIL
RECENT DISCOVERY DINOSAUR BUT REGULATION AND WAR RULES OUT ANY MODERN COLLECTING - ONCE-IN-A-LIFE FOSSIL!!!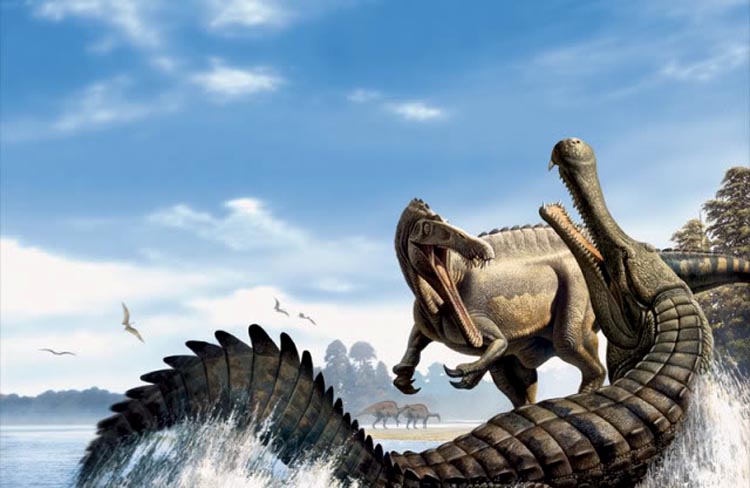 copyright paintings above by M. Shiraishi and Todd Marshall, image by PaleoDirect.com, used with permission
Product Videos
Custom Field
Comes with a Certificate of Authenticity & Condition / Information Sheet
Product Reviews