Product Description
ID

Eryops sp.

FOUND

Wellington Formation - Oklahoma, U.S.A.

AGE

PERMIAN:  280 - 265 million years ago

SIZE

 .40

" - .30"long claws




CONDITION

COMPLETE, INTACT WITH NO REPAIR
AND NO RESTORATION


NOTE

EXTREMELY RARE!  FROM BEFORE
THE DINOSAURS

INCLUDES DISPLAY BOX -

 Actual Item - One Only

Comes with a certificate of
authenticity / information sheet
Collected from the Wellington Formation of Oklahoma, U.S.A. several decades ago, this is an ULTRA RARE complete, undamaged set of 4 claws from ERYOPS, one of the largest amphibians of its day. Eryops was a unique creature - a blend of amphibian and wholly terrestrial creature. Fossils of this animal are extremely scarce.
This is one of only a few Eryops fossils we have to offer of this very unusual early tetrapod. Aside from its extreme rarity, these claws are well-preserved examples that are complete and with no breakage. For the ultimate in rare prehistoric vertebrate fossils from BEFORE THE DINOSAURS, this one is a MUST. NO REPAIR OR RESTORATION.
ERYOPS was a large part land-dweller from the Early Permian. It grew to sizes ranging from 1.5 to 2 meters. Its body was stout and robust with a broad and large, flattened head. Eryops spent part of its life in water but it possessed unique early features of a part terrestrial life with a stronger, vertebral column, strong limbs and ears that could function out of the water, detecting airborne sound.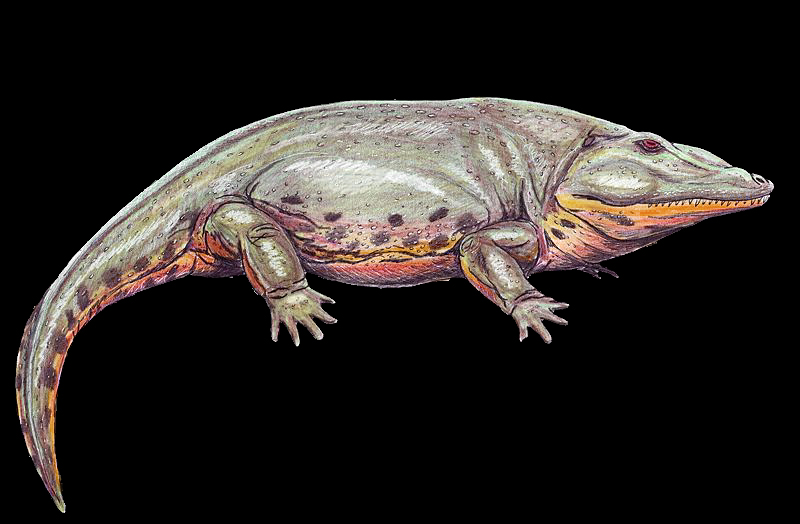 IMAGE BY DMITRY BOGDANOV - THIS IMAGE IS PROTECTED BY A STRICTLY ENFORCED COPYRIGHT AND MAY NOT BE USED IN ANY WAY
Product Videos
Custom Field
Product Reviews