Product Description
ITEM # 

DT19-035

ID

Leptoceratops sp.

FOUND

Lance Formation - Lance Creek, Wyoming, U.S.A.

AGE

LATE CRETACEOUS PERIOD:  68 - 65 million years ago

SIZE

.5" long

CONDITION

NO REPAIR OR RESTORATION


NOTE

VERY RARE WITH CHOICE PRESERVATION

INCLUDES DISPLAY BOX 

-

 Actual Item - One Only

Comes with a certificate of authenticity / information sheet
CLICK HERE TO LEARN MORE ABOUT HORNED DINOSAURS
Collected in the famous Lance Formation of Northwestern U.S.A., this is a SUPER RARE top grade fossil dinosaur tooth from the primitive ceratopsian dinosaur Leptoceratops sp.. It is rare for two reasons - fossils of this certops dinosaur are highly uncommon and this tooth is with crown and root in superb condition. Unlike most teeth usually found which are "spit teeth" or ones that were ejected from the dinosaur's mouth when alive, this specimen was still in the Leptoceratops' jaw when it died. This is evidenced by the intact crown and partial root still present.
As a juvenile tooth (which is rare) of a rare dinosaur, this specimen should be of interest to students of dinosaurs and dinosaur developmental stages. This is a superb educational specimen because fossils of Leptoceratops represent a very primitive example of a member of the horned dinosaurs compared to its giant cousins like Triceratops or Torosaurus. Very rarely offered or found. NO REPAIR AND NO RESTORATION.

The name Leptoceratops means "lean horned-face" indicating its diminutive size in the family of ceratopsians, or horned dinosaurs. Leptoceratops was small in comparison to many other horned dinosaurs and only reached a length of about 6.5 feet, weighing from 150 to over 400 pounds in estimation. It had claws as opposed to hooves like other ceratopsians and it had teeth in its upper jaw unlike more developed ceratopsians that only had their toothless beak. The unusually deep tail was a result of long, graceful spinous processes on the vertebrae, also differing from its larger horned cousins. It is believed this allowed the dinosaur to have a very flexible tail.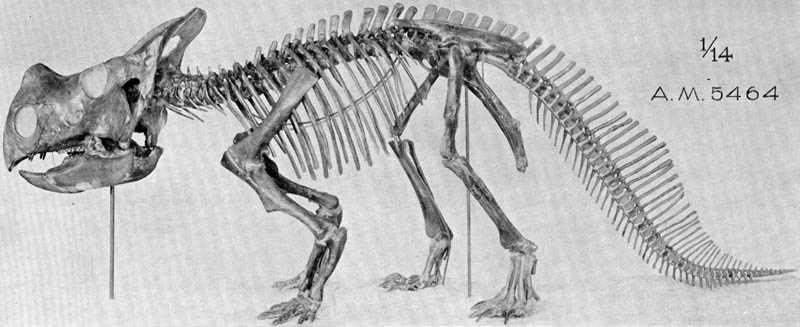 Product Videos
Custom Field
Comes with a Certificate of Authenticity & Condition / Information Sheet
Product Reviews