Product Description
ID

Deltadromeus agilis

FOUND

Kem Kem Beds 
- NW Sahara Desert, Morocco

AGE

LATE CRETACEOUS:  100 - 66 million years ago

SIZE

1.9"long

CONDITION

SINGLE FRACTURE REPAIR NEAR TIP.
OTHER CRACKS IN TOOTH DO NOT CONTINUE
THROUGHOUT.  COMPLETE AND FROM
THE FRONT OF THE JAW.

NOTE

UNCOMMON TOOTH FROM FRONT OF JAW
AND LARGE WITH CLASSIC FORM FOR THIS
CLADE OF DINOSAUR

INCLUDES DISPLAY BOX

   Actual Item - One Only


Comes with a certificate of
authenticity / information sheet
CLICK HERE TO LEARN MORE ABOUT DELTADROMEUS
This is an uncommon tooth from the front of the jaws of a Deltadromeus agilis dinosaur. Unlike teeth from the lateral jaw position where the body is more laterally compressed, the anterior teeth are rounder in cross section thereby making them stronger to withstand the snatching and initial striking bites of the prey by the dinosaur. Preservation on this tooth is excellent with minor feeding wear and a single fracture repair only. Enamel is beautiful and naturally lustrous in a warm golden light orange tone with excellent grain. Nice visible serrations can be seen.
An identical shape tooth to other dinosaurs of the same clade despite the head never being found of this species.
A recommended example from this "dromaeosaur-on-steroids" the size of a juvenile T. rex.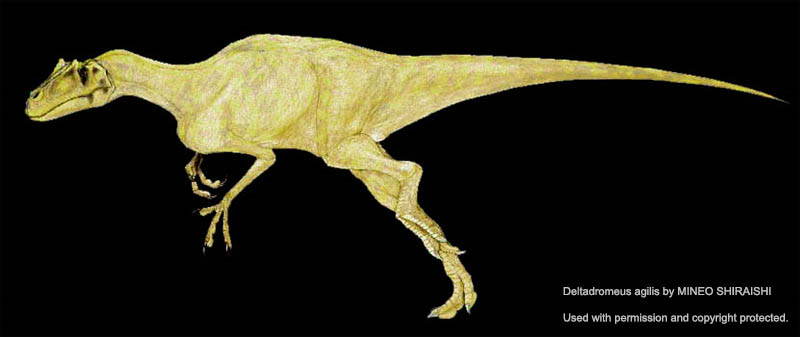 Product Videos
Custom Field
Product Reviews