Product Description
This is a nice quality GENUINE fossil Spinosaurus dinosaur tooth with great color. This tooth is complete and from a full-grown, adult Spinosaurus dinosaur.
Spinosaurus is estimated to have been THE LARGEST of all meat-eating dinosaurs that ever lived. With a length of 41 to 59 feet long, 20 feet high and weight estimates from 4 to 20+ tons, it was truly a behemoth! Spinosaurus was considered a bipedal dinosaur that is, one that walked on two feet although, its robust arms could have been used to allow the animal to walk on all fours at times. An extremely long snout was lined with an array of straight, conical teeth.
CLICK HERE TO LEARN MORE ABOUT SPINOSAURUS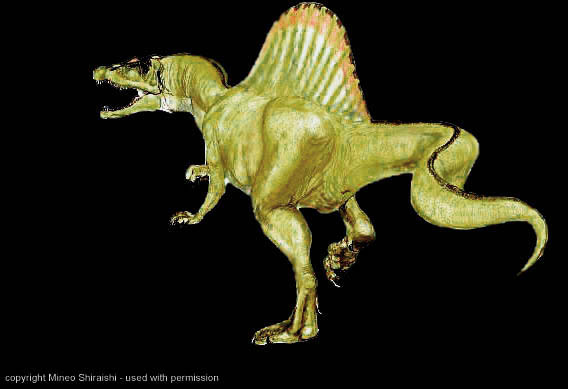 Product Videos
Custom Field
ID
Spinosaurus aegyptiacus
FOUND
Kem Kem Beds (NW Sahara Desert), Morocco
AGE
CRETACEOUS: 112 - 97 million years
CONDITION
SUPERFICIAL AGE FISSURE THAT HAS DISCOLORED THE ENAMEL BUT NOT A BREAK. NO REPAIR OR RESTORATION.
NOTE
A NICE, AFFORDABLE GENUINE TOOTH FROM A FULL-GROWN MEAT-EATING DINOSAUR
::
Includes a LIFETIME GUARANTEE Certificate of Authenticity & Condition / History Sheet
Product Reviews